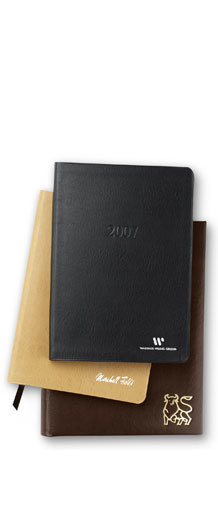 CORPORATE GIFTS
Gallery Leather handcrafted products make the perfect promotional gifts. Whether for loyal employees and customers or as a part of a marketing plan for promoting your products or services our wide range of timeless and attractive planners, notebooks and organizers can be personalized with a name, corporate logo or other graphic.
Each book is handcrafted here in Maine, as they have been for the last 30 years. We have our own on-site personalization department capable of branding your gifts with your logo or text in time for any event or promotion.
Let our Corporate Service Department help you select the perfect product for your needs by calling 877-811-7901 or emailing us at corporategifts@galleryleather.com.
Please note that all corporate stamping job requests must meet a minimum quantity amount of 25 pieces.
FAQ's:
Which products on your website are available for personalization or corporate branding? All of the products detailed on this website are available for custom embossing. If there is a product you feel meets your needs please call our Corporate Service Department for assistance and availability.
Do you offer foil stamping options? We offer gold, silver, white and blind (no foil) for stamping options. Please note that some of our products contain gold gilded page edges which is a standard feature and cannot be changed depending on what foil choice you make for logo stamping.

How do we place an order? To place an order please call our Corporate Service Department at 877-811-7901 or email us at corporategifts@galleryleather.com to set up a Business Direct Account. Orders placed over the website will not be eligible for volume discounts. To receive volume discounts you must contact us via phone or email.
How do you ship your orders? Our standard shipping method is UPS Ground. 2nd Day and overnight shipping options are available for an additional charge. Shipping charges will be included with the order. Gallery Leather's Corporate Service division only sells products within the USA and Canada.
Can we order samples? Business Direct customers will be charged for production and shipping of samples. The cost of samples will be deducted from invoice when orders are placed.
Can we order personalized samples? Samples may be personalized with Gallery Leather's standard text sizes and fonts at an additional charge of $5 for one line and $6 for two. Custom fonts and logos will incur a one time die charge of $75 (this is an estimated charge and is subject to change depending on the logo art detail or size submitted).
Do you offer volume discounts? All Business Direct orders are eligible for volume discounts. Please call our Corporate Gift Department for a schedule of discounts that apply to the product/products you are considering.
Contact Information:
Corporate Gift Department
Gallery Leather Company, Inc
27 Industrial Way
Trenton, Maine 04605
1 877-811-7901
Fax: 207 667-8618
corporategifts@galleryleather.com