USAF Leather Professional Planner - 9" x 7"
Product Details
Accomplishing the mission and staying on task just got easier with our USAF Planners. You have a lot going on at work and at home. Keeping track of it all can be a bit of a chore. Your fellow Airmen wonder how you manage to get it all done.
You will stand out when you carry your beautiful USAF Planner into meetings. Your supervisor will take notice of how you are on top of everything, setting yourself up for success. Here's an investment that promises a great return.
Each week at a glance is presented in an easy-to-read vertical format. Days are divided into half-hour increments from 7 AM - 7 PM with space at the beginning of each day for scheduling that 6 AM flight to Chicago or early morning tennis match. Additional monthly format pages for viewing your schedule from 30,000 feet are also included.
Book Bound
Bonded Leather
Soft Cover
9" x 7"
192 Gold-gilded Pages
2021 Series:
Month at a Glance Section: July 2020 - June 2022
Weekly Section: January 2021 - December 2021 
Interior Book Code - 2021 - LG192 (PRO) M-21
Interior Book Code - 2022 - LG192 (PRO) M-22
Officially licensed product of the U.S. Air Force. Endorsement by the U.S. Air Force is neither intended nor implied.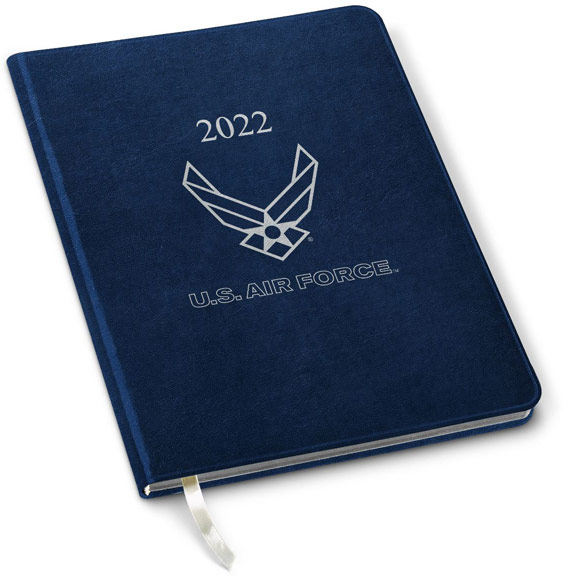 Customers Also Bought
We found other products you might like!